Testimonials
Improved Patient Safety and Satisfaction
This moveable, soft, and safe device allows for variable placement on either side of the patient's bed. The apparatus addresses patient safety and satisfaction by keeping epidural analgesia tubing, intravenous tubing, oxygen tubing, nasogastric tubing, and other tubing lines separated. The device eliminates pain caused by accidental tension on tubings. Moreover, this device allows a patient to participate in self-care and gain knowledge of safety options. 
Improved Caregiver Safety
Use of this apparatus keeps tubing free from being stepped on by the caregiver or patient himself, being caught in the equipment wheels, and from becoming contaminated on the floor. Greater caregiver safety results when patients are provided with access to safety features.
Improved Caregiver Satisfaction
By preventing a patient's tubing from becoming trapped or entangled, it improves a patient's hospital stay by reducing problems. Improved care giver satisfaction occurs when solutions are provided for patient care issues.
Improved Caregiver Efficiency
This apparatus keeps a patient's medical tubing aligned, untangled, and free from impingement in the bedrail's hinges. It prevents tubing from sliding down the railing when the head of the hospital bed is elevated. Greater caregiver efficiency results when equipment and tubing are in their proper places.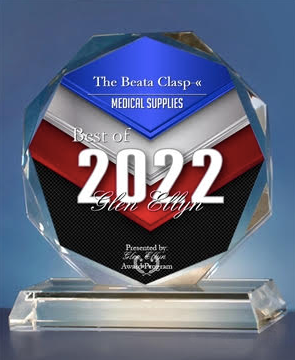 Best of 2022
We are extremely proud to be the recipient of the "Best of 2022 in Medical Supplies" Award instituted by Glen Ellyn, IL.
Press Release